Description
Doll
Fali, Kirdi, Cameroon
Associated with funeral rites, it probably has a commemorative function.
Metal, cotton thread
Height : 22 cm
The Fali people are a small ethnic group belonging to the Kirdi group in northern Cameroon and Chad. Kirdi is a name derived from the local distortion of the name "Kurds", which refers pejoratively to "pagans" as opposed to followers of Islam. The term Fali comes from a Fulani word meaning "perched", in reference to the appearance of Fali villages on mountainsides. Some Fali live in north-east Nigeria, where they are known as Bana.
The Fali are farmers and hunter-gatherers.
Their funerary rites have been particularly well described by Jean-Paul Lebeuf (1907-1994, French ethnologist and archaeologist, one of the pioneers of ethnoarchaeology):
Lebeuf Jean-Paul. Les rites funéraires chez les Fali. In: Journal de la Société des Africanistes, 1938, tome 8, fascicule 2. pp. 103-122
https://www.persee.fr/doc/jafr_0037-9166_1938_num_8_2_1655
The illustrations and information below are taken from this article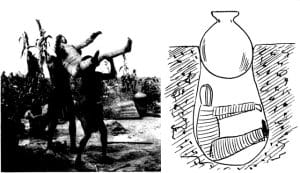 The wrap always begins with cloth. One layer is alternated with a layer of goatskin or strips of oxhide that have been previously moistened (…) to make them soft.
The wrapping begins with the head; the two arms and legs are stretched out and held horizontally by the leather straps and the tightly-packed strips of cloth.
The hands and feet remain bare.
(…)
The body is usually carried by two young men from the family: one under the armpits, the other by the ankles, while the corpse remains in a seated position with its arms horizontal.
(…)
The body sits at the bottom (of the grave), usually right on the ground (…).